!-onMouseover Link CSS Script-© Dynamic Drive (www.dynamicdrive.com). For full source code, installation instructions, 100's more DHTML scripts, and Terms Of Use, visit dynamicdrive.com-->
Why walk when you can ride...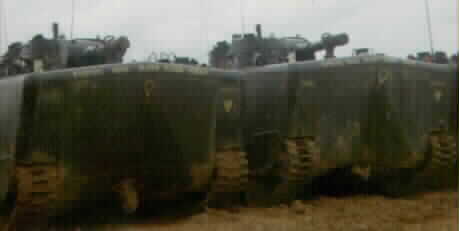 The above picture of Amtracs are carrying some heavier firepower than the usual 50 or 30 caliber machine guns that we used. The Amtracs with the heavy firepower is a How 6 amtrac; also called an Armored Amtrac and it came with a turret that had the 105 Howitzer in it.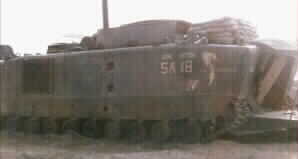 An amtrac with its ramp down. As the ramp closed we often jumped on it so we didn't have to "climb" to the top of the tractor. Had to remember though to get those toes out of the way of the closing ramp.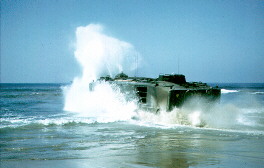 This amtrac is heading back to the ship with the other tracs in line...There was the time that "B" Company had orders to move a leper colony. The lepers rode on top of the amtracs with us and as grateful as they were for our unit moving them from harm's way, we just weren't about to let them give us hugs! When we finished this brief 10 hour operation, we drove our tracs into the ocean and gave them a good washing.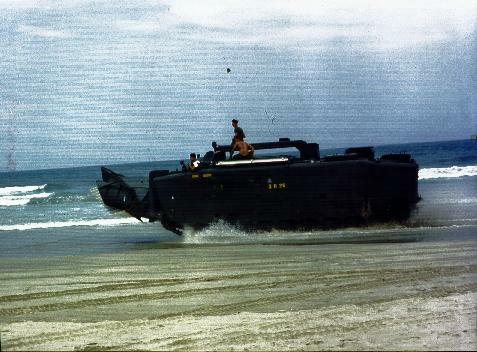 This tractor was with 3rd tracks and was sent to me by Jim Meehan, also in 3rd Amtrac Battalion. Jim was there from 68-69.
This amtrac was carrying some of those tough ass grunts you read about.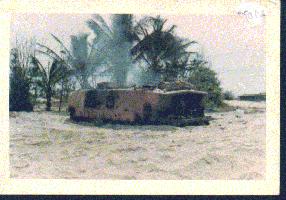 This picture was taken after the tractor hit a mine."
My pictures were in such poor condition after being stored in a tractor that hit a mine (no, I wasn't in it at the time). There was very little left of my first albumn and so many guys have been emailing me their pics and several have even snail-mailed me their pictures too.


Every amtrac crew had its own sentimental feelings toward their personal amtrac. I just wanted to show you what our amtracs looked like. And even though I was officially a radio operator assigned to an amtrac battalion, I always felt and was accepted as an amtracer. I taught the guys in our company how to use the radios and showed them proper maintainence and they in turn had me behind the "stick" almost immediately after breaking track with them in that heat that you just had to get used to. Somewhat off the point; most of us hated the war but most of us also loved the beauty of the country, especially viewing it from the top of our amtracs. Vietnam was one of the most beautiful places I've ever been to. It's a shame all that shooting was going on!


HOMEPAGE | Free 3d Text Graphics | Irc Pictures | Personal Info | Remembering Dusty | Sapper Attack Repulsed | In The Wire | Letter from Sec. of Navy | Operations participated in | Midi Files | Pictures of Vietnam | His Woman Begs (poem) | The Vietnam Experience | My Award's Page | Pictures of Amtracs | Amtracer's who are Online | Award's I've given to other websites | Your Website may take this AWARD "IF" | Vietnam Vet Links | Does HANOI Jane deserve it? | EMAILS to LHJ re: "HANOI" Jane | Picture of me | Remembering Greg Weaver | The Wannabe | Reunion--2001
This page and all others on this server

On January 1998
Copyright © 1998, Roy E. Stanford. No use of these pictures are permitted without author's written permission. Just ask and I will "gladly" give them to you.